Dirt Factory is a Manchester-based company, created by five friends with a passion for mountain biking. Our mission is to get more people cycling more often by offering fun and rewarding riding experiences in major cities, local communities and at events. 
We follow a simple formula, we combine fun experiences with progressive activities to help improve people's physical and mental health. We passionately believe that cycling and more specifically, off-road cycling, can contribute a great deal in tackling many issues we face in day to day life.
We want to give people the chance to ride fun and exciting trails whatever the weather, after work or school, through the darker nights or when travelling long distances is not an option. Central to the Dirt Factory ethos is that by having fun on your bike, you will improve your skills, health, well-being and confidence, and are more likely to cycle more often.
If you are interested in giving mountain biking a go and wondering where to start, just get in touch and we'll be more than happy to point you in the right direction.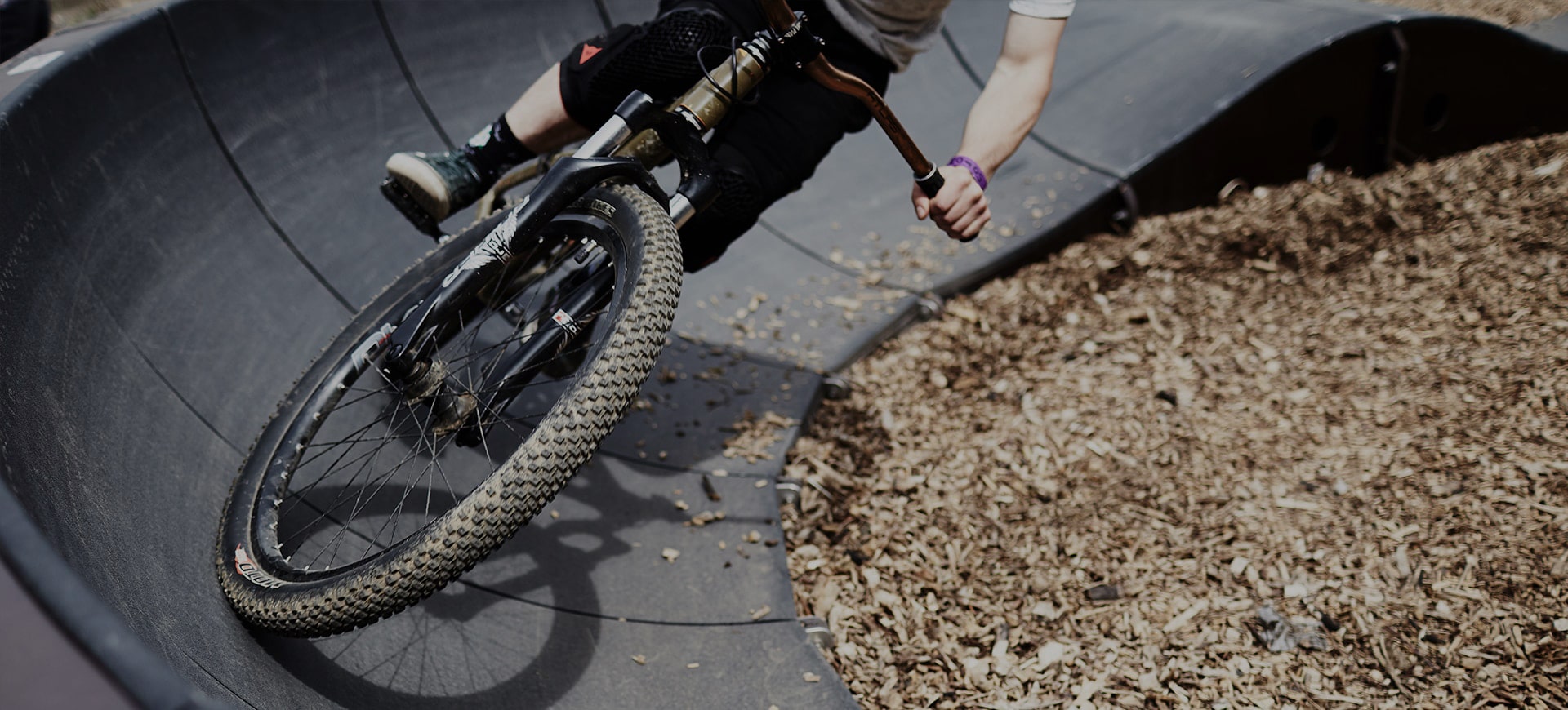 DIRT FACTORY INDOOR BIKE PARK
The search for a new and permanent indoor facility is well underway
Our team is working hard behind the scenes to reopen Dirt Factory Indoor Bike Park in a new and bigger building. We are exploring all options from new build, lease and purchase. Check our search criteria and drop us a message if you're in the know.
Our new venue will accommodate various trails, progressive jump lines, pump tracks, a dedicated bike skills zone and much, much more. Whether you're wanting to try mountain biking for the first time, build your confidence or improve your jump skills, Dirt Factory Indoor Bike Park is the perfect place to progress, have fun and stay healthy - whatever the weather!  
It's worth noting, our team has the skills and experience to transform a wide range of spaces both indoor and outdoor into high quality cycling destinations.  
Do you know of any empty buildings or disused land? Is your project looking to develop new mountain bike and trail infrastructure? If yes, please do get in touch. 
LAND / BUILDING CRITERIA
Our team specialize in transforming spaces into popular cycling destinations. Do you know of any land or empty buildings that are waiting for a new lease of life. If yes, we'd love to hear about it. Here are some example spaces we can work with, anything is possible.
70,000 to 100,000 square feet of sheltered or indoor space
30,000 to 60,000 square feet of sheltered or indoor space but with land for expansion
Building types - warehouses, some mills and disused car parks
1.4 to 2.2 acres of land for a new build project
30,000 square feet of sheltered or indoor space for a pop-up project
1 to 1.4 acres of land for an outdoor pop-up project
FEATURES
Real dirt trails
Flow trails and berm lines
Progressive jumps in progressive zones
Bike skills zone
Beginners' zone
Modular pump track
Air-bag and resi-ramp to practice jumps
Trials zone
FACILITIES
Professional bike shop
Cafe, bar and lounge
Hire a range of bikes and equipment
Indoor picnic areas
Changing rooms, showers and lockers
On-site car park
Event space and party rooms
Education suite
What is the Dirt Factory Pop-Up?
The Dirt Factory Pop-Up Bike Park in Manchester was just the start of our journey. Since the pop-up closure in early 2021, our team has been working tirelessly behind the scenes to secure a new facility. Where? Well we are not quite sure yet, you will have to wait and see. But, what we can say is the facility will be at least twice as big and house a much wider range of trails, jumps, features and services.
The Dirt Factory Pop-Up Bike Park at Mayfield was a temporary facility designed and built by Dirt Factory - part of a community of micro-businesses bringing industry, leisure and creativity back to a historic part of Manchester before redevelopment took place. The Dirt Factory Pop-Up was an evolving creative space where individuals, friends and also groups could ride their bikes together.
Over the two years the pop-up created 11 jobs, welcomed tens of thousands of riders and helped people progress their skills, become more confident cyclists and make new buddies. Around 2,000 tonnes of clean clay was used to construct the trails and more than 50 volunteers signed up to help during the construction and operation phases, some of our volunteers are still supporting us today.
Dirt Factory is engaging a broad community of cyclists who ride to have fun, exercise and learn new skills. We are keen to partner with businesses who share our vision and would like to benefit from the unique opportunities we can offer.
We are looking to establish mutually beneficial partnerships with local, national and international businesses. If you are keen to boost brand awareness, deliver social return on investment, stimulate your staff or drive sales of your products or services, a partnership with Dirt Factory can help you achieve your goals.
Our vision and passion for mountain biking present many opportunities to brands looking to engage service users of all ages and demographic. From product launches, demo days and networking events to advertising, affiliate marketing and supplying items to our shop, Dirt Factory can give your brand a boost in many different ways.
Ultimately we will look to develop a partnership which helps Dirt Factory expand and grow and that delivers real value for your organisation and our customer experience.

If you have a partnership idea in mind or if you would like us to discuss opportunities, please email us at [email protected]
Dirt Factory is delivered by a passionate staff and management team. Our love for bikes, spades and bringing people together has been harnessed within the development of Dirt Factory. We are using our shared passion constructively to bring mountain biking and BMX to a much wider audience.
Our six directors are professionals with a wide range of experience from the bike industry, construction and project management, finance and accounting, marketing and education. Our shared skills and passion are driving Dirt Factory forwards – building a brand that will deliver truly unique experiences and leisure facilities.
Andy Fowler
Communications and Marketing Director
---
Mark McClure
Director and Trail Specialist
---
Gary Hampson
Director and Trail Specialist
---
Ian Wheeler
Schools and Community Director
---
Stuart Brierley
Financial Advisor
---
2009

Five friends gathered around a table for the first time to discuss their business idea.

2010

Dan and Mark attended Euro Bike. They established key partnerships with pump track manufacturer Parkitect and various other brands. They were also lucky enough to witness Danny Hart's unbelievable winning run at the Downhill World Championships in Champery.

2011-2013

Dan left his site manager job at Morgan Sindall and traveled to Whistler bike park for two months of riding. Once back in reality the next few years involved lots of meetings, research, learning from others, visiting bike parks and writing our business plan (while working various other full-time jobs).

2014

The vision and business plan was complete, but communicating the vision was a challenge. A close friend of Dan's worked up a computerised 3D model in his spare time, which was used to drum up support. Soon after Dan and Mark built a physical model the size of a small table, it was awesome. Dan and Andy then carried the model through the middle of rainy Manchester and up an elevator to Piers Linney. It was during our meeting with Piers when we first explored the concept of crowd funding.

2015

Dirt Factory Limited was incorporated at Companies House and the funding journey began. Dirt Factory was awarded a 5k innovation grant and used the money to create a detailed 3D visualization of their vision. This was a pivotal moment because finally the scale and vision could be communicated much easier to potential funders.

2016

Dirt Factory raised £431k on Crowdcube thanks to the amazing support from 517 people. Dan Makin was appointed CEO and the real hard work began.

2016-2018

Dirt Factory seeks a 70,000-90,000 sq ft warehouse but a number of premise moves fall through. In the background Dirt Factory uses the funds to purchase a Parkitect modular pump track and BigAirBag. This equipment has been used to deliver over 70 school and community outreach projects and events. The Dirt Factory brand and network really started to grow from here and we still work with the same clients today.

2019-2021

We got the keys to open the UK's first indoor bike park in the heart of Manchester. The building size was a third of the size we had initially planned and was only temporary, which is why we chose the name Dirt Factory Pop-Up Bike Park. Our team set about creating a condensed version of the vision and delivered an amazing leisure experience.