DIRT FACTORY IS THE UK DEALER FOR PARKITECT MODULAR PUMPTRACKS
Looking to purchase your own pump track? Dirt Factory supply three different models of modular pump track.
1. Classic (V3) Pumptrack
V3 is the original modular pumptrack product built with treated timber structure (galvansised steel upgrade available) with a 1m wide high grip GFRP (glass fibre reinforced polymer) riding surface. These tracks have proven their durability in the harshest environments, from the deserts in Dubai to the snow of the French Alps.
Our own 'World Cup' composite track - available for hire - is light and compact enough to be transported to events and durable enough to be installed permanently in public spaces. It is ideal for use in parks, schools or shopping centres and indoor/outdoor retail parks.
2. Park (V4) Pumptrack
The V4 is a new high grip modular Pumptrack with a wider and concaved riding surface and rounded edges for optimum riding safety and fun.
The V4 is made using GFRP (glass fibre reinforced polymer) with a proprietary high grip riding surface and a tubular steel frame.
3. Urban (Precast Concrete) Pumptrack
Pre-cast concrete is a sustainable and maintenance free solution. They can be installed above ground or moulded into the terrain to give them a natural look and feel that blends beautifully into the surroundings. They remain mobile, which means that they can be installed without lengthy and expensive project documentation, giving them a significant advantage over "pour in place concrete" and other permanent structures.
All Parkitect modules are pre-engineered, designed and certified to BS and European norms and guarantee the perfect riding geometry for a superior pump track experience.
To find out more about purchasing a pump track please get in touch.
WHAT IS A PUMP TRACK?
A pump track is a series of mounds and banked turns that is designed to improve a rider's bike handling technique. Pump tracks are usually in a circuit so that riders can complete multiple laps by 'pumping' — generating momentum by up and down body movements, instead of pedaling or pushing.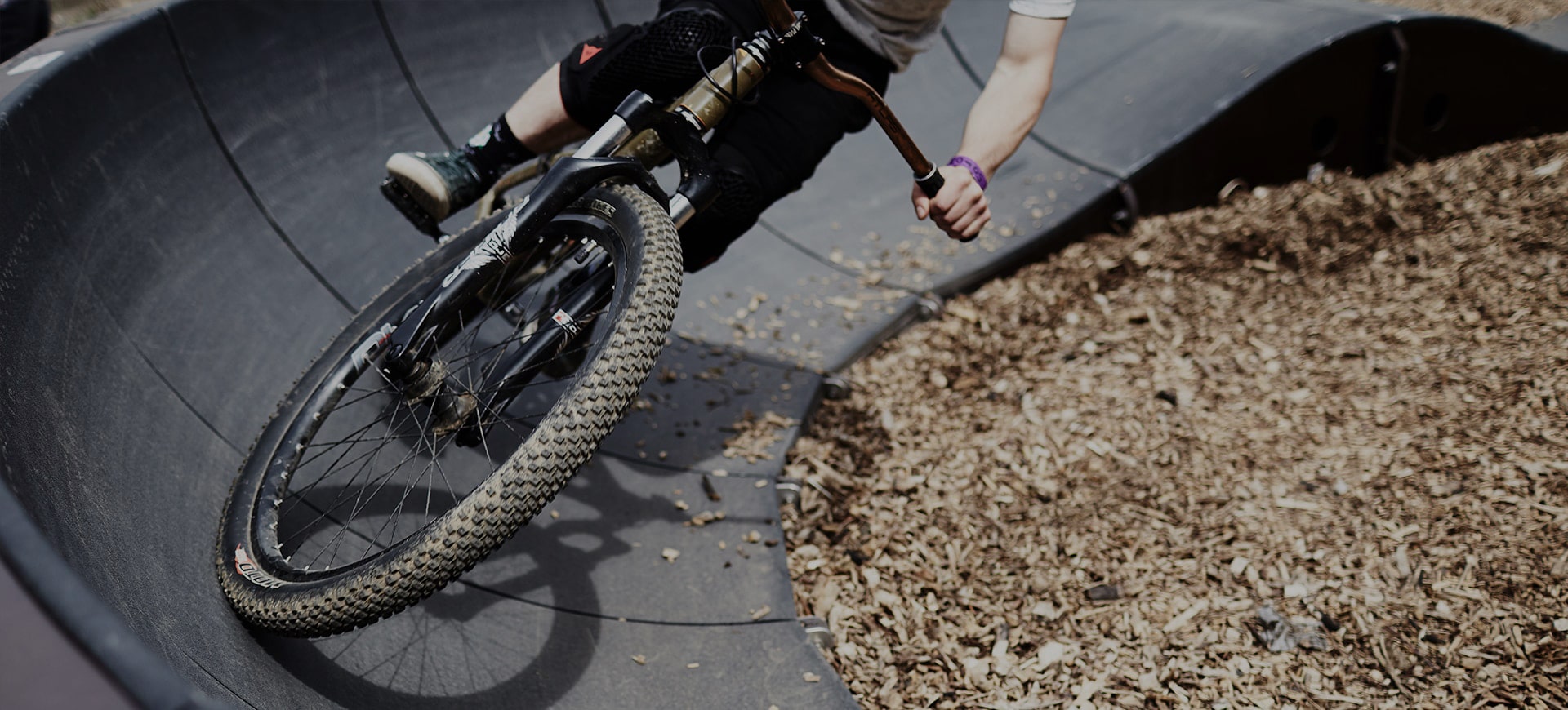 A better body and mind
Our pump track gets the blood pumping! We are big believers in physical activity because it has a positive impact on both physical and mental health. Going from inactivity to activity is often one of the easiest and most positive lifestyle changes people can make. Having taken that step, people are then more likely to make other changes – be that in smoking, drinking or diet.
A better bike rider
Our pump track helps to build confidence and fundamental bike skills in a fun way. The core skills developed on a pump track can be a useful addition, enabling mountain bike and BMX riders to be more efficient and carry more speed.
A fun activity for all
Pump tracks can be used by anyone on two wheels. It's designed for mountain bikes and BMX bikes but can also be enjoyed by people on scooters and skateboards. All ages and abilities can have fun on a pump track and progress their skills.
A flexible solution
Our modular pump track can be assembled in a short space of time. With the modular nature of the pump track, we can build a range of configurations to suit your event space, indoors or out.
AWARD WINNING DESIGN
The Parkitect pump track was designed by riders and developed by professional product engineers. Dirt Factory use Parkitect pump tracks to supply an affordable, sustainable, high-quality product which gives riders an experience they enjoy. The products themselves are manufactured with care and attention to detail in Europe and professionally distributed in over 40 countries worldwide. To date, Parkitect has received four internationally recognized awards for the excellence of the product design and functionality.