The Canal and River Trust got in touch with Dirt Factory to see if we could help get people out on their bikes on some of our local canals in Tameside and Rochdale. There were five rides in total, our favourite being a jaunt from Portland Basin down to the National Cycling Centre.
Nature, people, houseboats, locks, the scenery was amazing and we looked on enviously at people in houseboats and houses with beautiful gardens that backed onto the canal.
Reaching the cycling centre and grabbing a coffee at the café, it was agreed by all that the ride was nice and easy and we were surprised with the distance we had covered.  Being at the National Cycling Centre it was a great opportunity to check out the indoor BMX track and catch a few riders practicing, it was great to see the under 3's getting on the track in full face helmets on their balance bikes, a real inspiration for Dirt Factory in the future.
A quick scoot across the car park and we were in Phillips Park for a sneaky session on the pump track, there's a cheeky jump line too, good for building those skills!
Heading back onto the canal we started our journey back towards Portland Basin. In the couple of hours we were out on each ride along the Ashton Canal the groups covered plenty of ground. 9 miles in total, travelling on new terrain, meeting new people and introducing riders to the great things you can access via our local canals.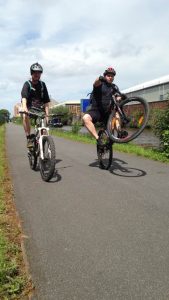 Here's a link to the routes we covered give them a try, it really opened our eyes to the possibility of commuting on the canal towpaths and for leisure rides with friends and family they were ideal.
We've even booked a canal boat for 10 from Portland Basin Marina so we can cruise the waterways in style and check out the towpath towards Marple and create an epic piece of Slow TV.
Check out the Canal and River Trust, we're looking forward to working together to offer more rides in the future.
Thanks to everyone that came along on the rides, we really hope you enjoyed them as much as we did.